Lights And Sound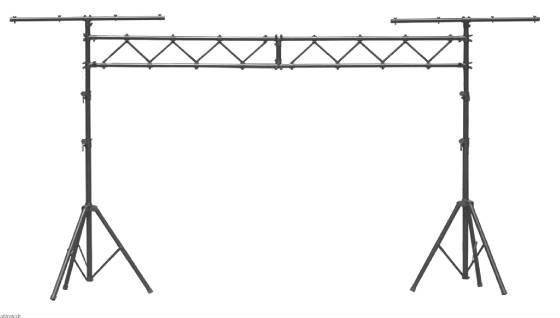 Backline LS7730 Light Stand with Truss
The Backline stand and truss includes mounting hardware and features rock solid construction. Its black aluminum finish looks fantastic and practically disappears on most stages. Each of the 2 included T-bars holds up to 4 lights and the I-beam holds up to 8 lights. Specs include a 10-foot span, and a very impressive total load capacity of 200 lbs. (evenly distributed).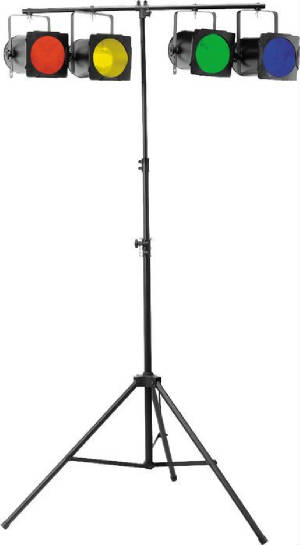 Chauvet Par 38 Lighting Package
The PAR-38 system comes complete with 4 Par 38 black cans, 4 150w bulbs, 1 lightweight stand, 1 4 channel multi-function controller, 1 foot switch, and 4 colored gels. This light weight system is perfect for most small venues.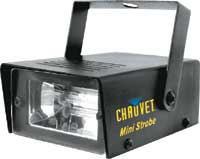 Chauvet Mini-Strobe
This small but very powerful strobe is great for fast pace parties. The Chauvet Mini-Strobe includes 35 watts of eye catching brightness.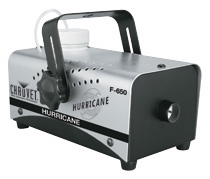 Chauvet F-650 Hurricane Fogger
The Hurricane Fogger includes 450 watts of power that emits 1,500 cubic feet per minute of intense smoke to help capture the intensity of the lights. This comes with the large light package.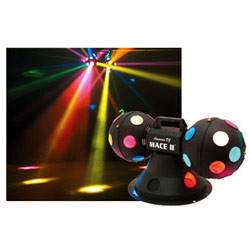 American DJ Mace II
The Mace II is a heavy duty light that consists of 30 multi-colored beams in two color balls that rotate 360 degrees. This must see light is by far the most powerful light we have and it is included in our large light package.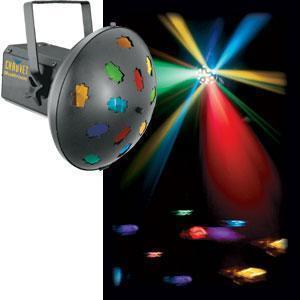 Chauvet Mushroom
The Chauvet Mushroom is a 30 beam multi-colored light that is the bigger sister to the Mace II. This light a cances beautifully to the sound of the music. Its a must see. The Mushroom is also include in thelarge light package.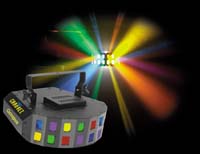 Chauvet Octopus
The Chauvet Octopus consists 32 sound activated beams that spin and project into a horizontal beam. The octopus is light weight and is perfect for any occasion. The octopus is also included in the large light package.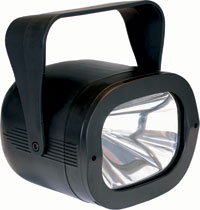 Chauvet Techno Strobe 1000S
The Chauvet Techno Strobe 1000s is a large and heavy duty techno strobe. The Techno Strobe flashes 12 times a second and is great for making anyone look like the ultimate dancer. This is also included in the large light package.
Peavey XR 600G Power Mixing Amp
The XR 600G powered mixer is a heavy duty 2x200 watt amplifier with a build in mixer. This is perfect for venues with limited space. The XR 600G is the #1 choice for Karaoke DJ's and is the main source of power for all of Southern Star Entertainment venues.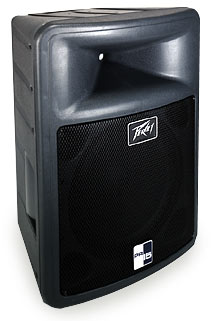 Peavey PR 15
The PRŪ 15 is a two-way speaker system that is lightweight yet rugged for live music or speech applications and will handle 400 Watts program and 800 Watts peak. The PR 15 is very powerful and is Southern Star Entainments top choice for quality speakers. We are proud to stand behind anything with a peavey label.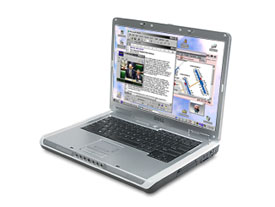 Dell Inspiron 6000 Notebook Computer
The digital age of music has arrived, and with it is Southern Star Entertainment. Dell Notebook computers are the choice hardware for our new all-digital music and karaoke library. The high speed processors and multiple large capacity 160 GB external hard drives gives us an unlimited amound of music at a touch of a key.

Audio 2000 AKJ7050 Mixing Amplifier
The AKJ7050 is truly powerful, yet pleasantly sounded, professional mixing amplifier. It was designed for master karaoke dj's and yet powerful enough for the average music dj. This 2x180 watt mixing/amp was used for many years as our stand alone mixer and is now a very powerful back-up amp. Its safe to know this bad boy is around in case we need it.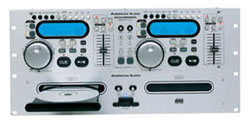 American Audio Pro DCD600
The American Audio Pro DCD600 professional DJ disc player is the ultimate dream compact disc player. Its anti-shock, fast loading capacity was our number one brand of player for years until our recent upgrade to digital. This is another nice piece of equipment we are happy to have as a back up player.